As part of our feature series on the LaunchPad Presenting Companies of the Aesthetics Technology Summit, we recently talked to CEO of Sofwave Medical, Louis Scafuri. Sofwave was founded in 2015 and is currently establishing their US headquarters in Orange County. Hear more about Sofwave's Innovations in light based skin treatments, and their plans for the future at ATS 2020.
What does Sofwave do?
Sofwave Medical Ltd. offers a unique approach to skin treatments using proprietary high frequency, high intensity, Intense Ultrasound Beam™ technology. This breakthrough technology brings a new option to non-invasive aesthetic treatments, providing physicians with smart yet simple, effective, and safe aesthetic solutions for their patients. The Sofwave™ device is FDAcleared and indicated for use as a non-invasive aesthetic treatment to improve facial lines and wrinkles.
How did you start and what drove you to become a part of Sofwave?
Sofwave Medical was founded in 2015 by a multidisciplinary team of engineers, physicists and experienced professionals in the aesthetics market. The challenge and large market opportunity to address the market need for a safe, effective, no downtime non-invasive skin tightening device, compelled us to employ our smart science to develop a simple solution for this global market need.
How do you see your company being part of the medical Aesthetics industry in the future?
We see Sofwave as the recognized leader in providing innovative and effective non-invasive skin tightening products to the global market of professional aesthetic treatment providers .
How did you get involved with LaunchPad and OCTANe?
Our team has previously created and built two of the major aesthetic device global leaders (Lumenis and Syneron Candela) and had long standing professional relationships with several of your organization's Committee members.
What opportunities excite you the most about presenting at ATS 2020?
Sofwave is in the process of establishing our US headquarters in Orange County. We are excited about networking with investors, industry leaders, physician experts as well as other local leaders who may have access to human capital resources that could be helpful as we grow our company.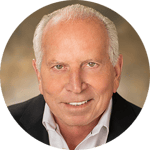 Louis Scafuri will be presenting Sofwave Medical at ATS 2020